The DFG research training group aims at establishing mutually shared methodological pathways to topics in life sciences and life writing related to boundary experiences of human life. It proceeds from the hypothesis that life sciences and biomedicine on the one hand and the humanities and cultural sciences on the other hand approach the same subject of man in his life-world from different angles. If we assume that life sciences and life writing can each be understood as a specific set of narrative practices, in which the significance of explanations and models depend to a large degree on the ways in which empirical data, explanations, and experiences are narrativized, what emerges then is an approach for establishing common methodological perspectives on man in his life-world.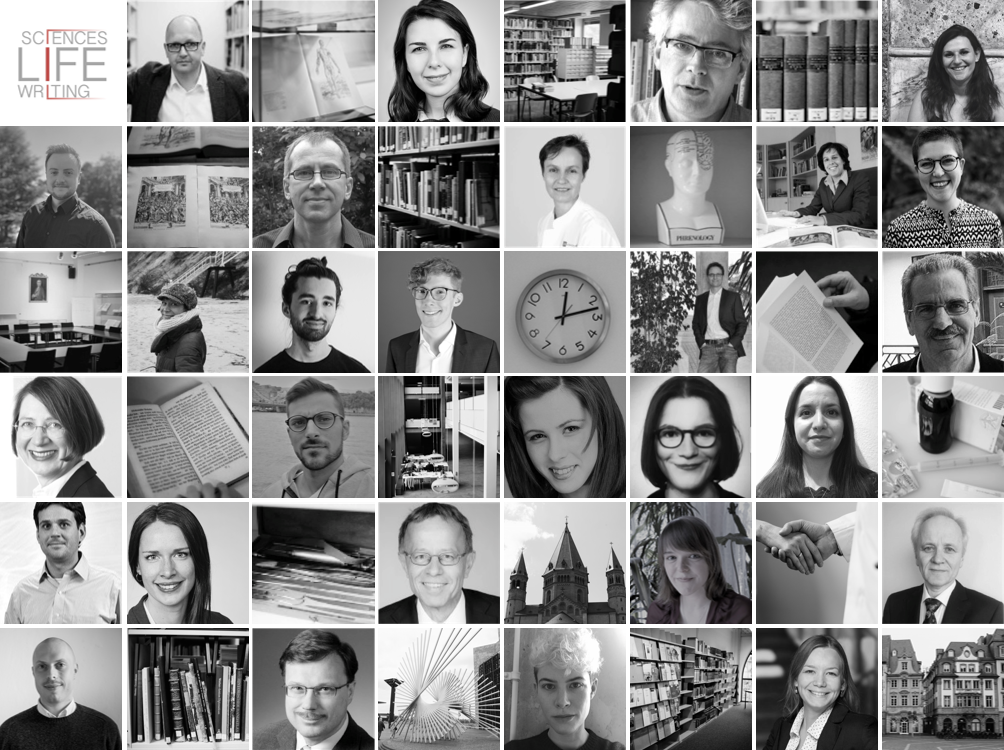 News
January 2021: New joint publication on the Opioid Crisis
In a new joint publication by GRK-Fellow Roxana Damiescu and faculty members Prof. Thomas Efferth, Prof. Mita Banerjee, Prof. Norbert W. Paul as well as Dr. David Yue-Wei Lee the author team takes a closer look on the current Opioid Crisis: "Health(care) in the Crisis: Reflections in Science and Society on Opioid Addiction" in the International Journal of Environmental Research and Public Health. Read the full article here.
17.12.2020: Vaccination survey by the Institute for the History, Philosophy and Ethics of Medicine
Just in time for the start of the first Covid-19 vaccinations in Germany the Institute for the History, Philosophy and Ethics of Medicine in Mainz conducted a survey on public opinion on the moral intuitions of the Covid-19 vaccine distribution. The survey was conducted from December 18 until January 8. First results are now online at Ärzteblatt online. Read the full article here.
For further information on the German vaccine distribuition strategy have a look at this SWR interview with Prof. Paul and this article by the Allgemeine Zeitung Mainz.
November 2020: Two Other Fellows of the 2nd Cohorte Successfully Completed Their PhDs
We are very happy to congratulate Eva Klein and Davina Höll on successfully completing their PhDs. Eva Klein obtained her doctorate with a dissertation on Migration and Mental Health, while Davina Höll explored the Politics and Poetics of the Cholera in 19th Century Literature.
26.10.2020: First Fellow of the Second Cohorte Completes her PhD
We are very pleased to congratulate Hamideh Mahdiani on completing her PhD in American Studies. Her dissertation on "Resilience Research: A Narrative Studies" takes an innovative and unique look at resilence research studies and the power of narratives. On October 26 she defended her work in front of an interdisciplinary and international committee consisting of Prof. Dr. Mita Banerjee, Gutenberg University Mainz, Prof. Dr. Norbert W. Paul, University Medical Center Mainz, and Dr. Michael Ungar, PhD, Dalhousie University, Halifax, Canada.
21.10.2020: New Project on the Treatment of Lung Cancer granted by EU/DLR
The EU and the DLR (Deutsches Luft- und Raumfahrtzentrum) granted the project "Personalized multimodal therapies for the treatment of lung cancer". The project, which is lead by Prof. Bockamp, Institut of Translational Immunology (TIM) at the University Medical Center, aims at researching innovative tumor therapies for lung cancer. The project will start in Mai 2021. Prof. Paul and his team at the Institute for the History, Philosophy and Ethics of Medicine will research the Ethical implications of personalized multimodal therapies.
13.10.2020: "Giving more attention to neglected tropical diseases"
JGU Magazine features the work of Prof. Ute Hellmich and Eric Schwegler on tropical illnesses. Read the full article here.