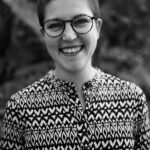 Research Project: Communicating Uncertainty to Parents in the Neonatal Intensive Care Unit (NICU): Prognostic Framing – Parental Preferences, Perspectives and Experiences. (Link)
Supervisors: Prof. Dr. med. Eva Mildenberger (University Medical Center of the Johannes Gutenberg-University Mainz), PD Dr. med. André Kidszun, M.A. (INSELSPITAL, Universitätsspital Bern).
BACKGROUND: When I was growing up, there were many things I wanted to be: a researcher in genetics, a neuroscientist, or a psychotherapist. My fascination with natural sciences was later joined by a pronounced interest in the humanities. The discovery of my passion for foreign languages and cultures then led to another fork in the road in my academic development.
In the end, I arrived at the conclusion that by studying medicine I didn't have to decide between the humanities or the natural sciences. By pulling the threads of various visions for my professional future together this discovery made me arrive where I am: a medical student currently finishing my fifth year at the University Medical Center of the Johannes Gutenberg University Mainz (Germany).
In the course of my medical studies I spent a year in Italy at the "Alma Mater Studiorum - University of Bologna" as I take great interest in intercultural exchange. Thanks to an inspiring internship in the department of Neonatology at the Hospital of Bozen (South Tyrol, Italy) during my experience abroad, I discovered my passion for and fascination with this particular branch of medicine. That is the reason why I started a dissertation project at the Department of Neonatology back in Mainz.
THE GRK IS... a great opportunity to cross the borders between natural sciences and the humanities by looking at boundary experiences of human life from multiple angles. The GRK promotes a holistic approach by encouraging us to both focus on our own projects in great detail while simultaneously engaging with colleagues from different personal and professional backgrounds. In doing so the GRK enables us to contribute to shaping an interdisciplinary future of science.
MY GOAL IS... to get a taste of various different scientific approaches and working methods, to experience a genuine change of perspective and to contribute to and grow in an interdisciplinary environment. Research and scientific work in the medical world are to great extent disciplinary and it is time for a fundamental rethink.
Regarding my own project my goal is to demonstrate that interdisciplinary research does not only cross boundaries between natural sciences and the humanities, but also between medical staff and patients or their surrogates. Not only do I want to conduct "near-patient" and fair-sighted research to multiply knowledge. I want patients and the medical profession to profit from my research findings by creating awareness for the importance of good communication, especially in the context of liminal experiences.
MY PROJECT... with the working title "COPE - Communicating prognosis to parents in the Neonatal Intensive Care Unit: Optimistic vs. Pessimistic" scrutinizes the complex topic of prognostic disclosure to parents of extremely preterm newborns experiencing a complication during their first postnatal days. My research project focuses on communication with parents in their role as surrogate decision makers for their preterm children in general and specifically on the manner of prognostic disclosure and its effect on parental perception and decision making in the face of uncertainty.
Publications:
Forth, Fiona, Hammerle, Florian, König, Jochem, Urschitz, Michael, Neuweiler, Philipp, Mildenberger, Eva & Kidszun, André (2021). "Communicating prognosis to parents in the neonatal ICU: Optimistic vs. PEssimistic – "The "COPE"-Trial" – Study protocol of a randomized controlled trial using scripted video-vignettes to explore communication preferences of parents of preterm infants."
Contact: fionaforth@uni-mainz.de