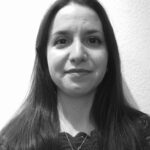 Research Project: Natural Product-based Approaches to Fight the Opioid Crisis (Link)
Supervisor: Prof. Dr. Thomas Efferth (Johannes Gutenberg-University Mainz)
BACKGROUND: I studied pharmacy in Timisoara. Through a student exchange program I had the opportunity to work in a laboratory at the University of Copenhagen. Additionally, after graduating I volunteered at a research center in Timisoara, where I gained insightful experience in scientific research.
THE GRK IS... a unique opportunity to work in an interdisciplinary environment, connecting the natural sciences with the life sciences. Through the interdisciplinary research the GRK will help me analyse my project from different perspectives and develop it in an innovative way. The GRK provides the first steps into a much needed interdisciplinary dialogue in research.
MY GOAL IS... to enrich my knowledge on the methods used in drug development research. I am looking forward to discuss new ideas and approaches for both my project as well as the ones of my colleagues, which will help me evolve as a young researcher.
MY PROJECT... focuses on developing new methods to fight the opioid crisis, which is currently a major public health problem in the USA and will very likely spread to Europe. The first aim is to decipher the underlying mechanisms, which influence the brain regions during pain and craving and develop new strategies, based on natural products, to fight the opioid addiction. Secondly, through interdisciplinary discussions I hope to find new solutions that can be a benefit to our society.
Publications:
Damiescu, Roxana, Banerjee, Mita, Lee, David, Paul, Norbert W., & Efferth, Thomas (2021): "Health(care) in the Crisis: Reflections in Science and Society on Opioid Addiction." International Journal of Environmental Research and Public Health, 18, 1-18. doi:10.3390/ijerph18010341.
Efferth, Thomas, Xu, An.-Long, Damiescu, Roxana, Banerjee, Mita, Paul, Norbert W., & Lee, David (2021): "Can eastern wisdom resolve western epidemics?" Traditional Chinese medicine therapies and the opioid crisis. Journal of Integrative Medicine. doi:10.1016/j.joim.2021.03.006.
Contact: r.damiescu@uni-mainz.de