Diagnosing Resilience: A Multisystemic Model for Positive Development in Contexts of Adversity
Public Guest Lecture with Dr. Michael Ungar, founder and director of the Resilience Research Centre at Dalhousie University, Canada
03.02.2020, 10 a.m.
Seminar room in the library (U1.134)
Am Pulverturm 13
Institut für Geschichte, Theorie und Ethik der Medizin
Universitätsmedizin Mainz
Flyer
Michael Ungar, Ph.D., is a Family Therapist and Professor of Social Work at Dalhousie University where he holds a national Research Chair in Child, Family and Community Resilience. Dr. Ungar has published over 180 peer-reviewed articles and book chapters on the subject of resilience and is the author of 15 books for mental health professionals, researchers, employers and parents. These include Change Your World: The Science of Resilience and the True Path to Success, a book for adults experiencing stress at work and at home.
Suspended Life:Exploring Cryopreservation Practices in Contemporary Societies
20.01.2020, 18.15 Uhr
Öffentlicher Abendvortrag mit Prof. Dr. Thomas Lemke
Raum P11, Philosophicum
Jakob-Welder-Weg 18
Johannes Gutenberg-Universität Mainz
Flyer
Psychoanalyse zum Anfassen
Nächster Vortrag: 23.10.2019, 18.15-19.45 Uhr
Thema: "Die im Dunkeln sieht man nicht" (Bertolt Brecht, 1930)
Bedeutung und Deuten des Unbewussten in der therapeutischen Arbeit
P10 Philosophicum
Jakob-Welder-Weg 18
Johannes Gutenberg-Universität Mainz
Die Ringvorlesung Psychoanalyse zum Anfassen beschäftigt sich mit Themen aus der psychoanalytischen Behandlungstheorie in Bezug auf Gesundheit und Gesellschaft und möchte diese für Studierende aller Fachrichtungen sowie für psychoanalytisch Interessierte veranschaulichen.

In dem Vortrag von Frau Ramshorn Privitera geht es um die Thematik und psychoanalytische Technik der Deutung und wie diese in Behandlungen hilfreich eingesetzt werden kann.

Die Reihe wird vom Vorstand der Deutschen Gesellschaft für Psychoanalyse, Psychotherapie, Psychosomatik und Tiefenpsychologie Rheinland-Pfalz organisiert.
Psychoanalyse zum Anfassen WiSe 19/20
Science meets Art
GRK fellows Madeleine Böckers, Oliver Kuchenbuch and Justus Pötzsch will be travelling to Essen in July, to participate in the Festival "Blue Skies: Bodies in Trouble" at PACT Zollverein. Together, they will hold a talk about "Life Science – Life Writing".
The festival asks how technology changes our bodies, our communities and our environment - and how we can understand and shape these changes collectively.
The festival will take place from 10th to 14th July at PACT Zollverein in Essen.
More Info and Program at PACT Zollverein
To be born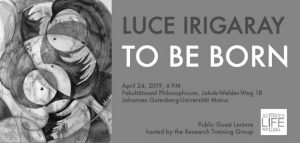 Öffentlicher Abendvortrag mit Luce Irigaray
Fakultätssaal Philosophicum
Jakob-Welder-Weg 18
Johannes Gutenberg-Universität Mainz
24. April 2019, 18.00 Uhr
Flyer
Luce Irigaray, eine der führenden feministischen Theoretikerinnen der Gegenwart, spricht am 24. April in einem Gastvortrag an der Johannes Gutenberg-Universität Mainz über ihr Konzept einer neuen Körperlichkeit des Menschen. Mit ihrem Besuch in Mainz folgt Irigaray einer Einladung des DFG-Graduiertenkollegs "Life Sciences, Life Writing: Grenzerfahrungen menschlichen Lebens zwischen biomedizinischer Erklärung und lebensweltlicher Erfahrung." Ihr Abendvortrag findet um 18 Uhr im Fakultätssaal Philosophicum der Johannes Gutenberg-Universität statt.
Der Vortrag findet auf Englisch statt.
Traumatisierung durch politisierte Medizin: Geschlossene Venoroligische Stationen in der DDR.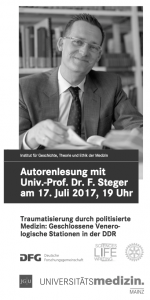 Autorenlesung mit Univ.-Prof. Dr. Florian Steger
Großer Hörsaal Chirurgie (Gebäude 505)
17.07.2017, 19.00 Uhr
Weitere Informationen finden Sie unter nachfolgendem Link:
Flyer
Prof. em. Dr. Arthur Frank in Mainz: On November 7 (12-1.30pm - please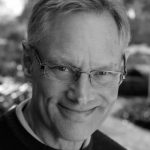 note the change of time), Arthur Frank, the author of The Wounded Storyteller and Letting Stories Breathe: A Socio-Narratology, will give a public lecture on "Selves, Their Guidance System, and Narrative Fallibility." He will demonstrate the importance of literature to medicine, ethics and therapy. For more information, click here. The lecture will take place in the lecture hall of the Institute for History, Theory and Ethics of Medicine. The lecture hall is next to the library in the basement of the building.

Prof. Dr. Thomas Efferth's research group (incl. GRK-fellows Janine Nass and Chunlan Hong) was featured in a SWR film on phytotherapy: "Alte Heilkunst wieder modern: Phytotherapie - Heilen mit Pflanzenkraft"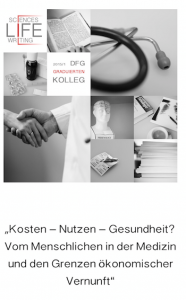 Conference on "Kosten-Nutzen-Gesundheit?
Vom Menschlichen in der Medizin und den Grenzen ökonomischer Vernunft." Please join us on March 14, 2016 (10-6) in the Alte Mensa at Johannes Gutenberg-Universität Mainz to discuss how economics and health care can be productively joined. More information on the program here.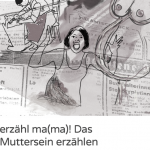 Cecilia Colloseus was invited to the University of Innsbruck to speak about her dissertation project. Her talk was recorded by the free radio station Freirad and broadcast as a feature with the title "Erzähl ma(ma)! Das Muttersein erzählen". The feature is now available as a podcast.
The founder of Narrative Medicine, Rita Charon, MD, PhD, from Columbia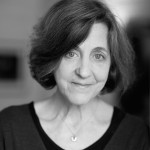 University will give a lecture about "Narrative Medicine: Honoring the Stories of Illness" on December 2, 2015. Charon is Professor of Clinical Medicine and Director of the Program in Narrative Medicine at the Columbia University College of Physicians and Surgeons. She directs the Narrative Medicine curriculum for Columbia's medical school and teaches literature, narrative ethics, and life-telling, both in the medical center and Columbia's Department of English. Charon is the author of Narrative Medicine: Honoring the Stories of Illness (2008) and co-editor of Stories Matter: The Role of Narrative in Medical Ethics (2002). Please find more information about Rita Charon's work and our event by downloading our flyer or by contacting Dr. Anita Wohlmann (wohlmann (at) uni-mainz.de).
The JGU Magazin published an article on Rita Charon's lecture: "Narrative Medizin für Mainz"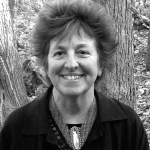 Prof. em. Paula Treichler from the Department of Gender and Women's Studies (University of Illinois, Urbana-Champaign) will speak to the members of the GRK on November 23, 2015. Treichler has done research, among many other topics, about medicine and gender and is the author of How to Have Theory in an Epidemic: Cultural Chronicles of AIDS (1999). She has co-edited The Visible Woman: Imaging Technologies, Gender, and Science (1998).
Find more information about Paula Treichler's talk by downloading our flyer.
Laura Schnieder has been invited as a visiting researcher at King's College in London. Ms. Schnieder will be at the Department of Social Science, Health and Medicine in April and June 2016 and work with Prof. Dr. John Abraham, Prof. Dr. Barbara Prainsack sowie Prof. Dr. Nikolas Rose. Congratulations!
Anirban Halder has been accepted to the summer school of the "Institute of World Literature," which is directed by Prof. Dr. David Damrosch, Department of Comparative Literature at Harvard University. The summer school will take place in Lisbon, Portugal (in June and July 2015) and will focus on the production, reception and circulation of world literature. Anirban Halder has been awarded a tuition scholarship. Congratulations!